Risking you guys running off screaming and getting severe hick-ups after looking, but here are the pics of my new shorter look.
Sigh, really have to start losing weight soon. Sportschool is scheduled for January. Because I gained several kiloos since moving here.
Anyway, make sure you sit down....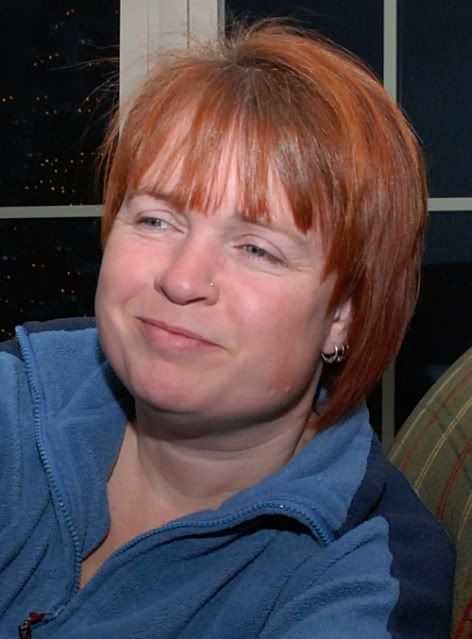 Btw, it is really short on the back.

Ok, everyone survived?

Than we go back to our regular stuff, like snow!!!

Just like the Netherlands we got hit with a good amount of snow.

It snowed all day Saturday and we shoveled the driveway at least 8 times to keep on top of it.

Since we didn't need to go anywhere we just sat back and relaxed. We had gotten enough wood on Friday to keep us warm for quite some time, we had our groceries in and didn't have to go anywhere but across the street for a visit with neighbors in the evening.

We ended up with just over a foot of snow and it looks like a winter wonderland now.

Today the roads were clean enough to go x-mas shopping with another neighbor and I had time to soak in the beauty of snow in the mountains. (That is how Jack calls them, I think molehills is more appropriate)

I know, they look far away, but believe me, you don't want to run the roads we drove today, too hard for us flatland people.

Also made a few pics while it snowed.

My son shoveling, he better get used to doing that.
And this girl is waiting for her warm wintercoat that I ordered through
this
place in the Netherlands. The proceeds go to the Spanish galgo's and I have gotten to know the owner, Elsbeth, as a wonderfull person.
And this is how the house and the yard looked today, enjoy!

(Going to hide under a chair now)

Ohhhh, and I really want one of these...
and I have the feeling my son would agree;-)